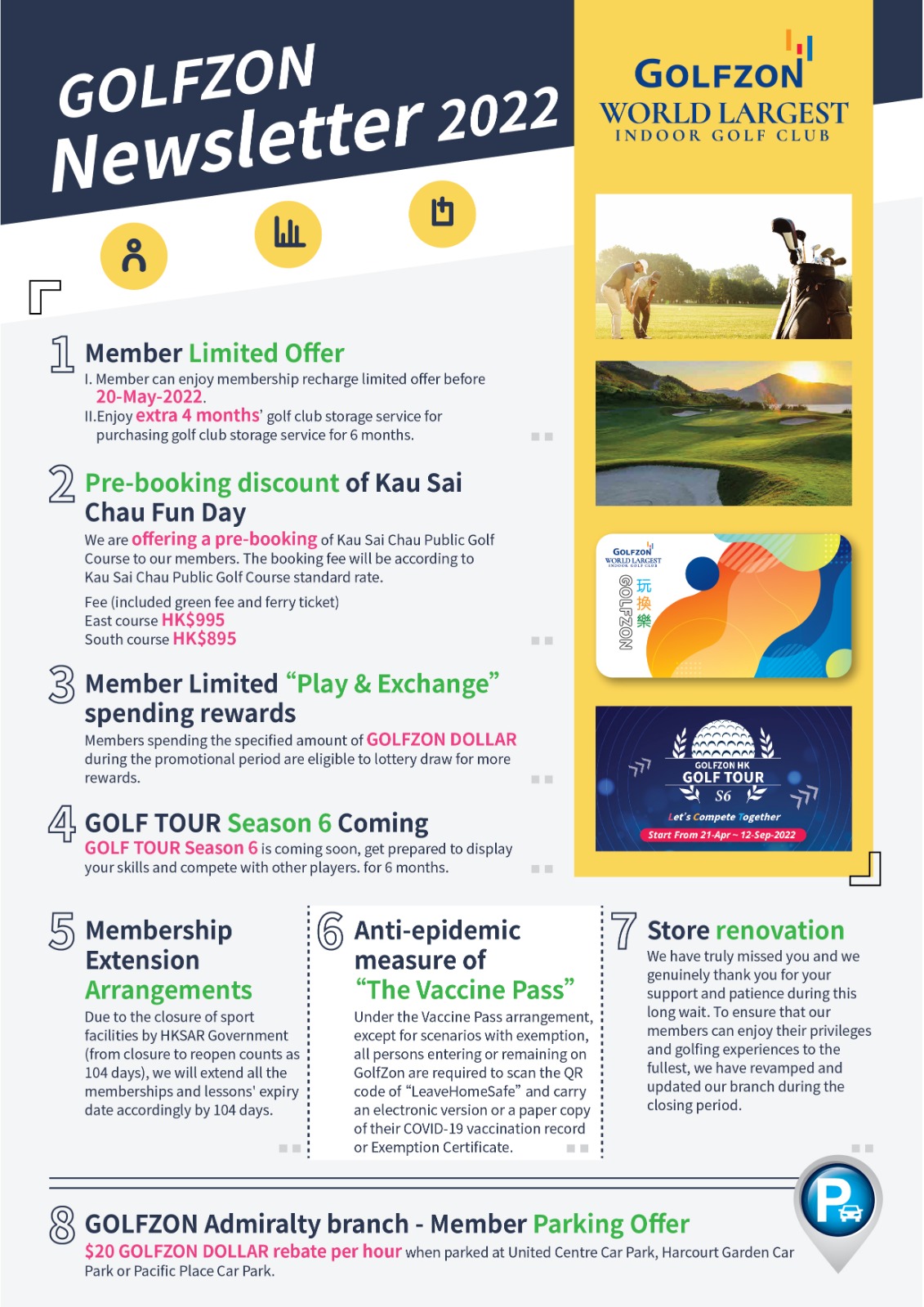 1) Member Limited Offer
1. Member can enjoy membership recharge limited offer before 20-May-2022.
2.Enjoy extra 4 months' golf club storage service for purchasing golf club storage service for 6 months.
2) Pre-booking discount of Kau Sai Chau Fun Day
We are offering a pre-booking of Kau Sai Chau Public Golf Course to our members. The booking fee will be according to Kau Sai Chau Public Golf Course standard rate.


Fee (included green fee and ferry ticket)
East course HK$995
South course HK$895
3) Member Limited "Play & Exchange" spending rewards
Members spending the specified amount of GOLFZON DOLLAR during the promotional period are eligible to lottery draw for more rewards.
4) GOLF TOUR Season 6 Coming
GOLF TOUR Season 6 is coming soon, get prepared to display your skills and or compete with other players.
5) Membership Extension Arrangements
Due to the closure of sport facilities by HKSAR Government (from closure to reopen counts as 104 days), we will extend all the memberships and lessons' expiry date accordingly by 104 days.
6) Anti-epidemic measure of "The Vaccine Pass"
Under the Vaccine Pass arrangement, except for scenarios with exemption, all persons entering or remaining on GOLFZON are required to scan the QR code of "LeaveHomeSafe" and carry an electronic version or a paper copy of their COVID-19 vaccination record or Exemption Certificate.
7) Store Renovation
We have truly missed you and we genuinely thank you for your support and patience during this long wait. To ensure that our members can enjoy their privileges and golfing experiences to the fullest, we have revamped and updated our branch during the closing period.
8) GOLFZON Admiralty branch - Member Parking Offer
$20 GOLFZON DOLLAR rebate per hour when parked at United Centre Car Park, Harcourt Garden Car Park or Pacific Place Car Park.
In case of any dispute, the decision of GreenLive Enterprises Ltd. and Hong Thai Golf Centre Ltd. shall be final.